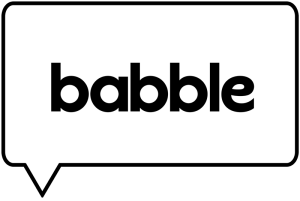 We love what we do. When we opened our doors in 2007, we'd seen the corporate side of old-school agenting and we didn't like it one bit. We wanted to bring fresh talent to an ever-expanding industry, and have fun while we were doing it. Since then, we've supplied voiceover artists to clients across the world, on commercials, animation, video games… you name it, one of our VOs has done it. Today, we're still getting the job done and, most importantly, we're still having fun.
Why should you choose us? With over 30 years experience across the commercial and broadcasting industry, we'd like to think we know our stuff. We use that knowledge to make your life easier, at least in terms of getting your project voiced. We listen to your casting, production and budgetary needs and supply you with the best artist for the job. Make Babble your first port of call and we'll go above and beyond just booking a voice for you. We love to fit clients and artists together, we'll always do it at the fairest price, and we'll even help you book a studio if you need! We'll make the process of booking your voiceover session so painless that you'll come back again and again - we pride ourselves on a consistent service and always with a smile. We pay attention to changing trends in the media to make sure we're always ahead of the curve (we told you we know our stuff).
Sound good? You should hear the artists.
Every Babble voice loves to talk and does it to a broadcast standard! We've remained true to our promise of bringing fresh, new talent to the industry and love helping someone forge ahead with a career in voiceover: we're not just bookers, we know our artists inside out and look after them like we'd look after our own family (better actually, because we'd never play tricks on the artists...). When you book one of our voices, you're booking quality. We look after actors, comedians, and presenters who are so much more than 'just' voiceover artists: they'll lift your script of the page and bring it to life. We know exactly what they can do in the booth and we're happy to share the joy.
So how can you get in on all the Babble goodness? It's easy. Give us a call or drop us an email - we can't wait to talk to you and talk through your needs. We'll work to your timeline, from a run-up of weeks to finding you a voice within the hour. Browse the artists or just send us your brief - we know there's no 'one size fits all' in this game and we're happy to play.
Want to be a Babbler? You'll need to send us your voicereel and tell us a little bit about yourself: we want to know the person behind those dulcet tones. Take a look at our FAQs for more information on applying to join the agency.
Babble Voices - top talent, sounding great.
Native Kiwi Sarah started her career in advertising in New Zealand, before moving to London where she was director of Mingles Music (later Music By Design). After a spell at home in the early 2000s she moved back to London to work at Euro RSCG in the TV department as the Global TV Co-ordinator, finally venturing over to the other side of production to become a voice agent back in 2005 where she met Maggie. A lifelong All-Blacks devotee who goes to as many Rugby matches as she can, Sarah also makes the best pavlova this side of the Equator.
Phil has been involved in the Voice Over industry for over a decade. Any questions about Home Recording in particular, ask Phil as he has seen and done most of it!